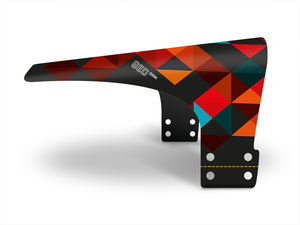 RideGuard
Dink Geo Orange
Sale price Price $11.00 Regular price
Tax included.
The RideGuard Dink Mini Front Mudguard Fender.
The Dink is our kids front clip on mudguard. Quick and easy to fit, durable with dope graphics, because little rippers should look good too. The Dink fits 10" 12" 14" 16" 18" 20" and 24" wheel sizes.
• Easy to install, includes 4 zip ties plus fitting instructions.
• Trim line to fit extra small forks.
• Maximum protection from tyre spray and flying debris.
• Designed and made in Bristol, UK.
• NEW Matt Deluxe finish with superior High Definition graphics.
• Weight - 25g. Length 155mm, width 219mm (at its widest), 72mm (at its narrowest).
• Made from 100% recycled post industrial plastic waste, 0.8mm polypropylene. The optimum thickness for durability, flexibility and resistance to fatigue.
• 100% recyclable.
Check out our NEW RideGuard Kiss-Cut Bike Stickers - VIEW THE RANGE click here.