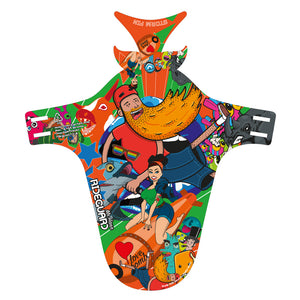 RideGuard
Vision Mr Hann
Sale price Price $15.00 Regular price
Tax included.
Purpose
The Vision is specifically designed for Gravel and CX bikes, to prevent spray and dirt from being thrown into your eyes and face at high speed. It also keeps your lower headset bearings in tip top condition, and bar mounted bikepacking gear dry.

Fit
The Vision Fits disc-equipped Gravel and CX bikes with tyre widths between 23mm up to 60mm. For best results fix around your fork legs, ensuring the 'Storm Fin' is 1-2mm above the tyre. For an extra secure fit (or for bikes with a small amount of clearance), fix around the top of the fork crown, as well as the fork legs.

Protect your fork paintwork
We include x4 lengths of transparent Heli-Tape to fit to your forks, (underneath where the zip-ties will go), this will protect your paintwork in the event you twist the guard (getting your bike in and out of your car for example).
• Easy to install, includes; 4 zip ties, 4 lengths of Heli-Tape, plus fitting instructions.
• Includes 'Storm Fin'.
• Fits Gravel and CX bikes. Tyre widths 23mm-60mm, 650b and 700c.
• Designed and made in Bristol, UK.
• Weight - 20g. Length 210mm, width 90mm (effective).
• Made from 100% recycled post industrial plastic waste.
• 100% recyclable PP.

Note: If you don't like the 'look' of the 'Storm Fin' and prefer a cleaner aesthetic, you can trim around the fold lines to remove.

"..they do a 'Kraken' job of keeping a heck of a lot of muck out of your face, up your back and out of your lower headset bearings."
advntr.cc - Test Score 9/10